We are Egypt [Hoopla videorecording] : the story behind the revolution
Deeply embedded inside the turmoil, filmmaker Lillie Paquette followed key opposition figures and young democracy activists as they struggled against extraordinary odds and at great personal risk to remove an uncompromising U.S. -backed authoritarian regime determined to stay in power. Full description
Corporate Author:
hoopla digital.
Other Authors:
Paquette, Lillie., Zlutnick, David., Alomar, Misha'al., Abdel Fatha, Mohammad., Nour, Ayman., Sadat, Anwar, 1918-1981., Sharif, Omar, 1932-
Format:

Video

Language:
English

Published:

[United States] :

The Disinformation Company :

2013



Subjects:
Online Access:
Instantly available on hoopla.

Tags:
Add Tag

No Tags, Be the first to tag this record!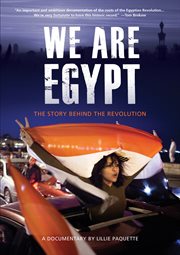 Saved in: